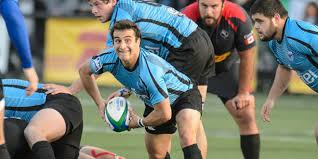 With only a couple of months left before the Americas Rugby Cup opening, Uruguay team started to prepare for the great event that will start in 2017. The first game Uruguay will play is against team USA, on 4 February.
Uruguay brings together 29 rugby players to train at the National High Performance Center in Montevideo. These are the players training in the next months: Santiago Arata, Nicolás Freitas, Diego Ayala, Juan Diego Ormaechea, Matías Benítez, Manuel Blengio, Juan Manuel Cat, Mateo Sanguinetti, Juan De Freitas, Manuel Diana, Ignacio Dotti, Juan Echeverría, Guillermo Lijtenstein, Martín Espiga, Jerónimo Etcheverry, Juan Gaminara, Rodolfo Garese, Facundo Gattas, Jorge Zerbino, Santiago Gibernau, Germán Kessler, Diego Magno, Alenjandro Nieto, Diego Pombo, Andrés Rocco, Mario Sagario, Rodrigo Silva, Gonzalo Soto, Andrés Vilaseca.
They will spend over 20 days together and will make the most of them to prepare for the big opening day and games of 2017. The team does have big chances to win against their opponent, having a good record in the past. Also, it is worth it to mention that Los Teros defeated the Eagles in the 2017 fixture, so USA team is definitely looking to take revenge on 4 February.
These are some great news and fans are also preparing for the greatest games of the Americas Cup that will come.